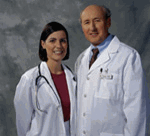 Physician & Hospital Discounts



To locate a provider online, click here.
Going to the doctor doesn't have to cost an arm and a leg. Save 10% to 40% at over 285,000 participating doctor offices and hospitals. Get the care you and your family deserve for less.
Includes family doctors, specialists, alternative care providers, facilities and hospitals.
The program has one of the largest doctor networks in the nation.
No age or health restrictions. Anyone can save with this benefit.
Advocates help you find participating hospitals.
Disclosures
Hospital discounts NOT available in Maryland, Vermont and West Virginia.